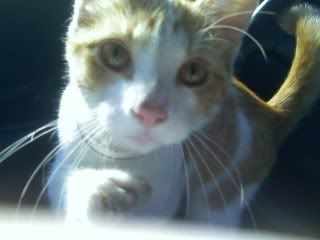 Welcome to the family- Oliver!

Here's the story. Last Tuesday Tommy was outside with Maggie (our black lab) and something ran past his leg and made him jump. And there was an orange and white kitten. He let Tommy pick him and was very friendly. He brought him in to show me and I

didn't

think too much. We gave him some food on the back porch and figured he would be gone by morning. It was too cute though cause Tommy took a box out and put a blanket in it, just in case he stayed around. We

didn't

give it much more thought and went to bed. The next morning as soon as I woke up I thought about him. I went down and opened the back door and right away I could hear him crying. He came running out from under my car and was purring and so friendly. I fed him some more and then on my way to work was going to take him to our Humane society. Well it turns out they only take stray cats 2 days of month and the next time

wasn't

until October. I

couldn't

just let him loose b/c we live on main street in our town and I

couldn't

bear to see him get hurt or killed. So I called my mom and asked if he could stay with them till we found the owner. She was more than happy to help out. On the way to my mom's he crawled in my lap and went to sleep. Well I was hooked. And as soon as Tommy told me it was a little boy, well there was just something about him. So I took him to their gardening shed till I could do something else. I called and left a message on our local radio station but I never got a call. So Friday I called and got a vet appointment for today. I become even more attached as the days went on and well he is now the newest member of our family. I was so nervous for him to meet Charlie (our gray cat) but it turned out much better than I hoped. I named him Oliver b/c I thought it was cute with Charlie. Charlie is still a little weary but they touched noses and smelled each other, so that's a big step.

LOL

. I

don't

know why he came into our life but he is here to stay and I look forward to getting to know him and for him to fit in. Something about a baby animal cant help but put a smile on your face. Just for today I'll smile and maybe even laugh a bit. Thank you, Oliver.

Don't

know if you needed us more or the other way around but I'm glad you've come.